Please confirm the following before offering or attending an online lecture.
"Before you take a distance learning course."
Art Media Center recommends the use of Google Hangouts Meet as an online meeting service.
Hangouts Meet can be started from the top-right menu of Gmail.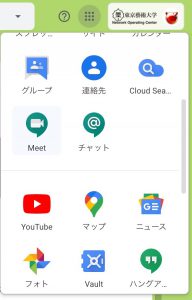 This service is available to all students, faculty and staff who have a Geidai account.
The functions of Hangouts Meet are based on G Suite for Education.
Basic usage of Google Hangouts Meet (Japanese)

The following features will be available until September 30, 2020.
TIPS